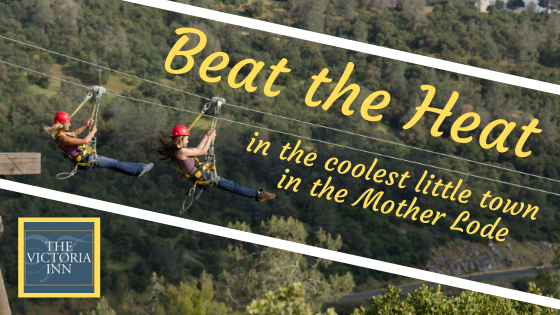 With temperatures averaging into and beyond the 90s this summer of 2019, it has been hot here in the Gold Country. Granted, it's cooler here in the Sierra Nevada foothills compared to other parts of California, and even cooler if you drive up to Arnold, which is at 4,000 feet or Lake Alpine, which is just about 7,400 feet above sea level. However, if you intend on visiting the Victoria Inn and V Restaurant, Bistro and Bar in Murphys, and are concerned about the increasing summer temperatures, we've decided to come up with some ideas on how to stay cool during the heat wave.
Here are 4 reasons why Murphys is the coolest little town in the Mother Lode.
Reason 1 – Caverns of Calaveras County
There are three underground caverns to visit here in the Gold Country, and all just a rock skip away from Murphys: Mercer Caverns in Murphys, Moaning Caverns in Vallecito, and California Cavern in Mountain Ranch. All three are geological wonders – and incredibly cool, even in hottest of hot weather!
Mercer Caverns offers cave tours that descend about 161 feet below the surface, ultimately walking about a quarter of a mile, although the guide will make frequent stops along the way to detail the history and geology of the caverns. Best of all, the caverns maintain a constant temperature of about 55 degrees Fahrenheit all year round. That's about forty degrees cooler than it has been… and remains (ugh) outside!
Moaning Caverns Adventure Park offers several different kinds of adventurous activities that are both fun to do and will cool you off. Along with tours that lead you deep within the largest cave chamber in California, there are other really fun activities to do that will get your mind off the heat. Zip lining, for example; cruising like a missile over the incredible landscape is one way to cool down a bit.
California Cavern, according to gocalaveras.com, was California's first show cave and is the longest cavern system. The cavern offers guided tours showing stunning crystalline cave formations, including stalactites, stalagmites, cave popcorn, flowstones and helictites (yeah, even we had to look that one up: https://en.wikipedia.org/wiki/Helictite), and learn all about the cave's history. You can also go gold panning and gemstone mining above ground next to their visitor center.
When visiting any of these cavern sites, be sure to wear good walking shoes. We know it's hot, but you can't go traversing in an underground cave in flip flops!
Reason 2 – New Melones Lake Marina
Go for a dip or boating in the fourth largest reservoir in California. With hiking and mountain biking trails, fishing, and camping and a water surface area of 12,500 acres, there are so many ways to beat the heat at New Melones Lake.
If you don't have a boat of your own with you, you can rent one at the New Melones Lake Marina. They also offer jet skis, kayaks, and water toys for the day, all at hourly or daily rates. Just stop by the Glory Hole convenience store, where they have everything you need for a great day cooling off in the water, such as ice, cool drinks, snacks, and sandwiches, and tackle and bait if you feel like fishing. Don't forget your fishing license.
Reason 3 – Calaveras Big Trees State Park
Take a cool hike through the very scenic – and very shady – Calaveras Big Trees State Park. Opened in 1931 to preserve the North Grove of giant sequoias, Big Trees is a fun place to visit during the hot summer months. After a cool hike exploring the variety of habitats and history, hang out in their visitor center and museum about where you can learn about wildlife, Miwok Indians, and logging. All of this is included in the price of admission to the park. You can also check out the Calaveras Big Trees Association events page to see if there's anything fun and cool to do at the park.
Reason 4A – Simply stay in Murphys
Anyone who has been to Murphys considers it to be the coolest town in the 120 mile stretch of the Mother Lode, if not the whole 400-mile Sierra Mountain Range, and that's not just because it's a cool place that attracts a lot of cool people looking for a lot of cool things to do. Murphys really is a much cooler, temperature-wise, town compared to any other quaint town in this geographic region.
And why is that?
Trees.
Honestly…it's the trees. Lots and lots of trees. And lots of trees mean lots of shade. And lots of trees lowers your stress levels. Yea, really: https://returntonow.net/2018/09/21/study-the-more-trees-were-surrounded-by-the-lower-our-stress-levels/
Go to any other Gold Rush-era town in the Mother Lode and you'll discover Murphys has the single greatest concentration of trees along our half mile main street, from Val du Vino Vineyard at the extreme west end of Murphys Main Street, to Hovey Vineyard's tasting room and property in the middle of Main Street, to beyond Vina Moda's tasting room at the far east end of Main Street.
Trees.
And all of the picturesque side streets? More trees.
Wander down to the Dunbar House…trees. Walk down to Murphys Park, picnic in the shade and dip your toes in Angels Creek, under many more trees.
The abundance of really old growth, mighty and majestic trees lining and towering above Murphys Main Street, and the shade they produce, dramatically reduces the overall air temperature, which makes wandering from air conditioned shop to air conditioned tasting room to cool quirky underground and basement tasting rooms that much more pleasant than any other town in the Mother Lode.
Now don't get us wrong…we're not trying to discredit or besmirch any other historic and quaint Mother Lode town…but, a dog has to wag its own tail, and Murphys is just…well, cooler. Literally.
Reason 4B – The V Restaurant, Bistro and Bar
Finally, when you're done admiring Murphys, her shops, wine tasting rooms and her trees, venture over to the Victoria Inn, and you'll find that the V Restaurant, Bistro and Bar has a wonderful outdoor courtyard that's always nice and cool during the day due to the water misters that are always on in warmer weather, cooling you down in the hot, dry daytime heat into the early evenings when the temperatures start to drop.
Sit by the fountain and feel the coolness from the running water wash over you as you enjoy a nice cold and incomparable cocktail or a glass of award winning local to internationally renowned wine from one of their two bars. Pair your adult beverage with a delectable burger, cool salad inimitable Calamari or other small plates and entrees to luxurious and savory fine dining prepared with the freshest ingredients by Murphys' best chefs.
The temperature does drop in the evening, and here in Murphys, the temperature shift from day to evening usually averages 90s during the day to the low 70s into the mid 60s overnight. That's when the twinkling lights of the V Restaurant, Bistro and Bar come on, the subtle sounds of people laughing, giggling, and singing "Happy Birthday" sounds like melodious music; you take in the beauty of the beautiful European style courtyard of and porch around the Victoria Inn; and as that first sip of cool Calaveras County wine with good company lowers your temperature from the inside out, suddenly it all becomes clear…Murphys is the coolest.
Don't let the heat keep you from visiting the V Restaurant, Bistro and Bar in the Victoria Inn courtyard dead smack in the center of Murphys. The locals call it Times Square.
And, if you do decide to dine inside, it has some pretty awesome air conditioning.
Check us out at http://www.victoriainn-murphys.com or call us at (209) 728-8933.