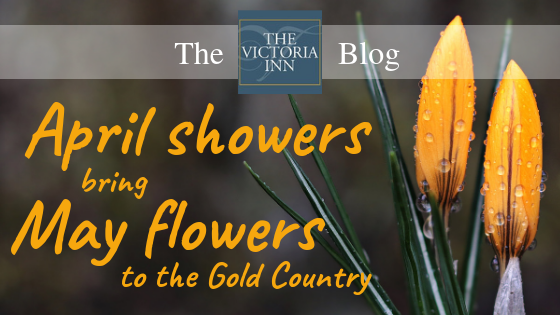 We have been awash with rain here in the Gold Country for the past couple of months. By the end of April, it has rained nearly forty inches this season—at least ten more inches than last year! Thanks to the sudden heat wave on the days when it wasn't raining, flowers are bursting up everywhere, painting the foothills green with pops of purple, red, yellow, and poppy gold. So, the saying is true: "April showers bring May flowers."
Now is the time to experience the burst of color before it fades into summer. Stay with us at the Victoria Inn in Murphys and you will have the opportunity to see (and smell!) the bloom for yourself. If you are looking for some flower-y experiences during your vacation, here are some ideas:
Ironstone Daffodils
According the Ironstone Vineyards blog, their vineyard is home to 98 different kinds of daffodils, amounting to an estimated 300,000 daffodils growing on the property. Ironstone Vineyards Master Gardener, Larry Ringland, has been caring for these daffodils for over 30 years.
Now is the time to see them! Take a short, scenic drive from Main Street in Murphys over to Six Mile Road to experience them yourself. Stroll through the gorgeous grounds of Ironstone Vineyards and gaze over the abundance of happy daffodils perked up toward the California sun, and then head over to their tasting room for a well-deserved break and a sip of wine.
Locke Vineyards flower farm
Locke Vineyards doesn't just grow wine grapes; they grow a plethora of flowers, too! They've planted nine different varieties of lavender, and in the peak of summer, they have fresh-cut flowers including sunflowers, zinnias, amaranth, sweet peas, and cosmos. After getting a tour of their lavender patch and flower garden, feel free to taste some of their great wine, too.
In their Farm Table Workshops, you can learn how to make lavender bundles, flower bouquets, and receive all kinds of gardening tips. In fact, they have a workshop coming up soon! On May 26 from 9 to 11 a.m., Locke Vineyards will host their workshop "Plant a Garden 101". Their website states that this workshop will "…give you the tools to create a beautiful summer garden of any size!" To reserve your spot before space runs out, contact them at (209) 728-7808 or email them at info@lockevineyards.com.
Country Flower Hutch
Want to take some spring blooms with you after you're done visiting the Gold Country? Stop by the Country Flower Hutch on Main Street in Murphys. This family-owned and operated florist and gift shop offer fresh bouquets, as well as a variety of indoor and outdoor plants and flowers that will add a little greenery and color to your home. These gorgeous plants are the perfect gifts and/or souvenirs for anyone visiting Murphys.
Dunbar House Bed & Breakfast Inn garden
For those who want to wake up surrounded by flowers, we have the solution for you. Our sister property, the Dunbar House Bed & Breakfast Inn, boasts a fantastic garden.
Along with an expansive lawn covered in plush grass, pink roses entwine in the white picket fence and a variety of perennials like freesias peek out beside the front porch steps. A brand-new entrance to the garden allows visitors to enter from Jones Street. It's the perfect place to wake up in the morning and have a cup of tea or coffee out on the porch, surrounded by peaceful greenery and fresh blooms.
Ready to book your spring vacation surrounded by flowers? Call the Victoria Inn at (209) 728-8933 or email us at victoria_inn@sbcglobal.net. Or, if you're curious about our sister property, contact the Dunbar House Bed & Breakfast Inn at (209) 728-2897 or email dunbarhouse@dunbarhouse.com.