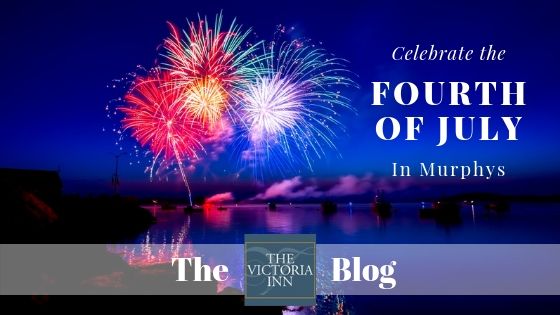 July 4th falls on a Thursday this year. This isn't a great day in the week, but it certainly won't stop the festivities. Many venues on Main Street in Murphys will be playing live music, and chances to attend parades and fireworks closer to the weekend. There will be plenty to do on Independence Day in and around Murphys and the Gold Country, and you won't be limited to just the 4th of July. When you stay with us here at the Victoria Inn, you can celebrate the 4th all week long. To see what else is offered in and around Murphys during Independence Day week, check out the calendar of events at gocalaveras.com.
Calaveras Community Band
On July 1 from 6:30 to 8:30 p.m., the Calaveras Community Band will be playing some good old-fashioned tunes at Murphys Community Park on Algiers Street. The Calaveras Community Band is a nonprofit and funded in part by the Calaveras Community Foundation.
According to their website, the Calaveras Community Band can trace its history to the Gold Rush and was started by miners to relieve the stresses of their work. They state, "The Calaveras Community Band continues with this honored tradition. While most of today's members aren't gold miners, we come from many walks of life. The age range of our group nearly spans a century itself, from 12 to 90 years young. But the spirit remains the same – we are people who love to play, performing for those who enjoy listening. Music is a very important part of our lives and playing in the band is a magical time."
This family-friendly, free concert put on by and for the community is sure to be a good time. Bring some comfortable lawn chairs and a picnic basket. Lucky for you, the Victoria Inn is within easy walking distance of Murphys Community Park, so packing your picnic back and forth will be no trouble at all. And what an awesome place to hang with the locals! If it gets too hot, just stick your feet in Murphys Creek.
Independence Day Parade and Sierra Nevada Arts & Crafts Festival
Here in the Gold Country, it's all about our small-town American traditions and celebrations. Just a short drive from Murphys, Arnold is another small town here in Calaveras County that's just as charming and welcoming. On July 6 at 10 a.m., the Greater Arnold Business Association will stage its 37th annual 4th of July parade in Arnold. The parade will be held on Highway 4, from the Arnold Byway to Cedar Center. This year's theme is "Celebrating Our American Heroes." The parade route on Highway 4 will be closed by 9 a.m.
Following the parade is the Sierra Nevada Arts & Crafts Festival, held at Bristol's Ranch House Café at 961 Highway 4 in Arnold. Stroll through booths featuring a variety of arts and crafts, and there will be all kinds of fun activities for kids to enjoy. The festival will continue to July 7. On both days, the Arnold Lion's Club will serve an all-you-can-eat pancake breakfast from 7:30 to 11 a.m. for $8. The Ebbetts Pass Volunteer Fire Department will also be there serving beer and home-made Kettle corn and baked goods. On Saturday evening, they will host their annual barbecue.
Independence Day Celebration & Fireworks
You can't celebrate the 4th of July without some fireworks. On July 6, Ironstone Vineyards in Murphys will be holding their own Independence Day Celebration, fireworks and all. And it's all just a short drive from Main Street to Six Mile Road.
Along with a fabulous firework display in the evening, Ironstone Vineyards will have a bouncy house, rock climbing wall, fire jugglers, face painting, and crafts vendors; all kinds of activities for the whole family! Plus, live music by Shane Dwight, Nick Tyrrel, and the Snarky Cats.
Tickets will be $15 for adults, $10 for kids ages 6 to 12, and kids 5 and under are free. Gates open at 2 p.m. Fireworks will go off at dusk. For more information, call (209) 728-1251.
~
Celebrate Independence Day with us at the Victoria Inn in Murphys! Book your room at 728-8933 or visit us at victoriainn-murphys.com.
Are we booked full? No worries! Consider staying at our sister property, the Dunbar House Bed & Breakfast Inn, right down the street, or check out our variety of spacious vacation rentals in and around Murphys.