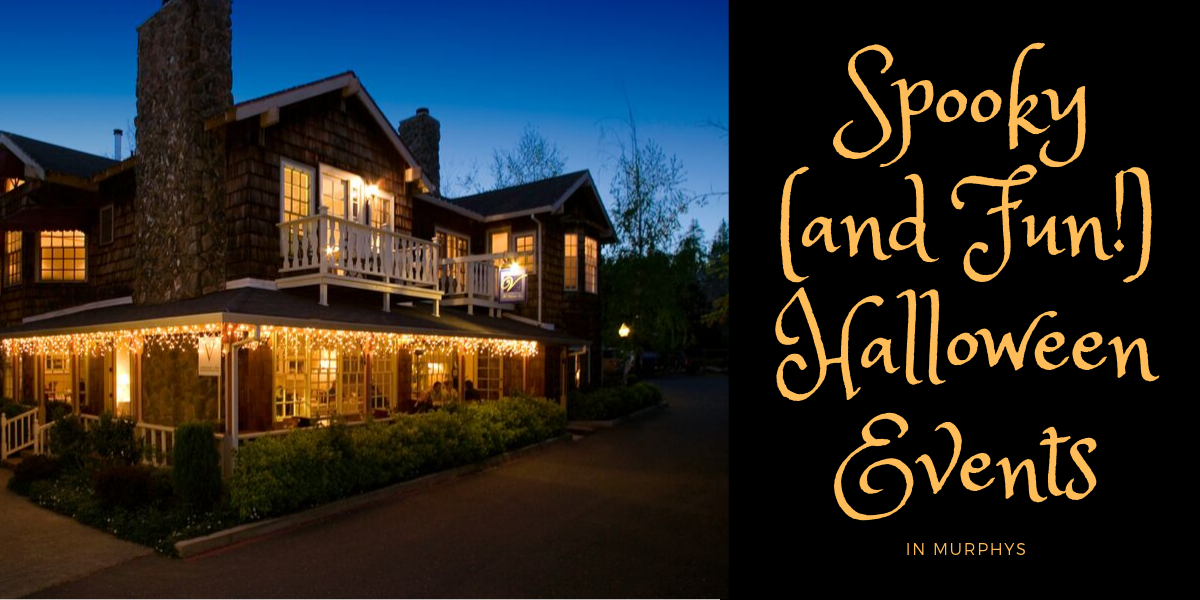 With Halloween around the corner, people are starting to pull out their pointy witch hats and have begun carving jack-o-lanterns. Here at the Victoria Inn in Murphys, we get just as excited about a holiday where we can dress up in spooky costumes and have a grand old-time trick-or-treating as we do for Thanksgiving, Christmas and, yep, even Valentine's Day.
If you're looking for a haunted bed and breakfast in hopes of finding ghosts this Halloween, you're out of luck at the Victoria Inn, since it was only built in 1992 and there have no reported poltergeist.
However, in the heart of historic Murphys, where many souls have passed through, you may find a friendly ghost or two. If you're a amateur Ghost Buster and want to investigate the occasionally reported paranormal activities at our sister property, The Dunbar House Inn and Event Property is just two minutes walking distance down the road. Built in 1880, many people and incidents have respectively passed through, passed on, and transpired in the almost 140 years since it opened its door as one of the most extravagant private homes of its time.
Let's just say, it's a perfect place for a séance, if you want to take a crack at summoning the souls of those who are potentially stranded between these Earthly bounds and the spirit world.
In addition, one of the many tasting rooms on Main Street claims to be haunted by a ghost of their very own, but we'll let you discover which one it is.
There are many ways to have a spooky good time in Murphys besides hunting ghosts, however.
If you're looking for a different way to celebrate the Halloween season, check out these fun events.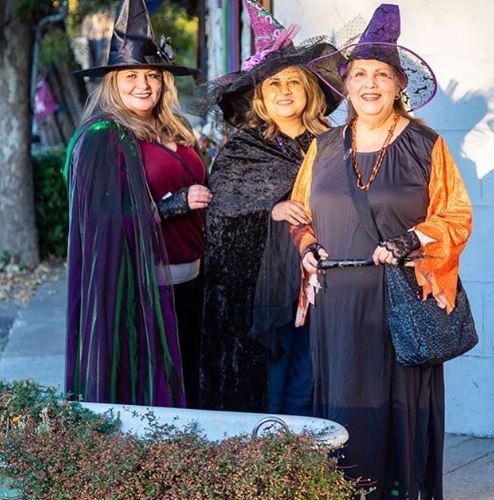 Downtown Murphys Witch Walk (Saturday, October 19, 2019 from 2 pm to 8:30 pm)
Double, double toil and trouble;
Fire burn and caldron bubble.
Fillet of a fenny snake,
In the caldron boil and bake;
Eye of newt and toe of frog,
Wool of bat and tongue of dog,
Adder's fork and blind-worm's sting,
Lizard's leg and howlet's wing,
For a charm of powerful trouble,
Like a hell-broth boil and bubble.
Double, double toil and trouble;
Fire burn and caldron bubble.
Cool it with a baboon's blood,
Then the charm is firm and good.
For the 4th year in a row, witches and warlocks will gather on our Main Street, but don't be afraid; it's all fun and games, including raffles, live music at several destinations through town, and a wild and witchy costume contest. More on that in a moment.
Fun for the whole coven, be ready to eat, drink, and shop Downtown Murphys, but dress to impress as your best Witch of Eastwick, Harry Potter character, Maleficent, sorcerers Saruman or Gandalf, Winifred, Sarah or Mary, the witches of MacBeth or the Good Witch of the North or the Wicked Witch of the East, or whatever other fascinating fantastical mystical character you can conjure.
And bring your diminutive witches, mini warlocks and assorted flying monkeys with you, because this is also a family-friendly event.
If dressing up isn't your thing, just come for a good time and great shopping. But trust us on this one, costumes are strongly encouraged, because if you're not dressed to the nines for this event, you're going to feel a little weird. So…we suggest, dress to impress, because there is a costume contest at the end of the day at the Murphys Pourhouse when all gather for the culmination of the party to select the raffle winners and the best costumes of this town-wide coven.
The costume contest will offer up all kinds of cool prizes for the best Male, Female, Children and Couples costumes. The costume contest starts at 5:30 pm, so don't miss it.
Be sure to enter to win one of four beautiful gift baskets from the Potted Plum, who created and produces this town-wide party. https://www.facebook.com/ThePottedPlum/
Entering to win is easy. For every $10 you spend at participating merchants throughout Murphys, you will receive five raffle tickets. When you get to the Murphys Pourhouse, place your raffle tickets into the cauldron in front of each gift basket and then stick around and enjoy the great food, beer and wine at the Murphys Pourhouse and wait and see if your name gets drawn in the gift basket raffles.
All of this is within walking distance of the Victoria Inn and the Dunbar House Inn and Event Property, so there's no need for driving (or riding your broom).
For more information, check out the Murphys Witch Walk Facebook page: https://www.facebook.com/MurphysWitchWalk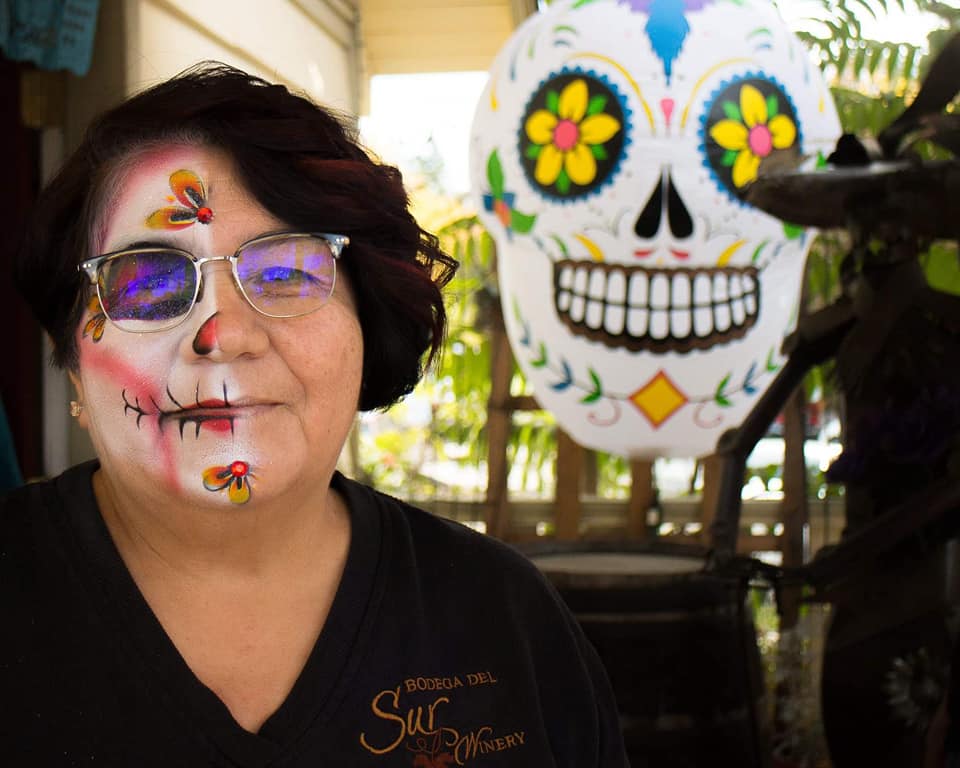 Dia de los Muertos: Murphys Day of the Dead (Saturday, November 2, 2019, from 11 am to 5 pm.)
"Celebrate in Calaveras 'Land of the Skulls' the lives of those who have passed. With us in heart and spirit each Day of the Dead." – Dia de Los Muerto, Murphys, California Facebook page
Tracing its roots back to Mexico, Latin America, and even parts of Europe, Dia de los Muertos is more than a celebration of death; it is a time to honor loved ones who have passed on and for family to gather for food, fun, and joy.
It is a beautiful melding of the Catholic All Saints Day and All Souls Day. It is believed that the souls of loved ones return to enjoy a few brief hours of time with family and take in the pleasures of the living again. Their favorite food and drink are set out, including candy for the young "angelitos." Candles are lit and marigolds are displayed and burned as incense, as it is also believed that they help the spirits find their way back home to their family. Full of skeleton motifs and face paints paired with bright colors, music, and dancing, it is a lively celebration rather than somber.
Murphys Day of the Dead draws people from all over the world to celebrate this ancient celebration.
The event was founded by Evelyn Reyes Umaña, who grew up in El Salvador and later opened her winery, Bodega Del Sur Winery, here in Murphys. Specializing in Spanish varietals, Bodega Del Sur Winery does everything with a Latin flair.
Festivities begin on Saturday, November 2, 2019 at 11 a.m. and while this is a town-wide celebration, the costume contest and much of the festivities are held in Murphys Community Park.
Murphys Day of the Dead offers traditional entertainment featuring Folklorico dancers, musicians, Catrin & Catrina contests, food, and drinks for sale, as well as authentic craft vendors.
Participating businesses on Main Street in Murphys will be offering authentic cultural art, food, face painting, live music, sugar skulls and displaying altars celebrating loved ones that have passed on.
While the public is welcome to contribute items to altars, please ask business owners before doing so, to ensure proper space for your item. Food and drink purchases benefit the Murphys Community Club, who is responsible of maintaining and improving Murphys Community Park.
~
If your stay in Calaveras County this fall involves attending any of this awesomely spooky autumn affairs, festivals and parties, rooms sell out quickly, so be sure to book your room at the Victoria Inn, our sister property the Dunbar House and Event Property, or any one of our incredible vacation rentals through V Vacation Rentals. Reservations: (209) 728-2897.